ZOYSIA & THE FUTURE OF GOLF: FEWER INPUTS FROM TEE-TO-GREEN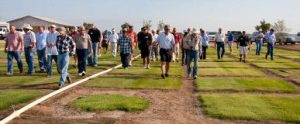 GIS Learning Tour at Bladerunner Farms
Tuesday, Feb. 6, 2018 from 8 am – 5 pm
Not just for tees and fairways anymore, zoysiagrass is now a viable option for greens. And that's not marketing hype. Five Ph.D.s and other turfgrass experts explain why they believe zoysia for greens is now the real deal and how you can implement its use on your golf course.  Calling all GIS attendees interested in learning more about managing zoysiagrass on their golf courses: This is the seminar for you!
If you are a vetern GIS attendee who experienced the Zoysiagrass as a Game Changer Tour at GIS 2015, this will be a whole new series with presentations, updated facilities, speakers, research and a new golf venue. Attendees will learn about the future of zoysiagrass turfgrass management from tee to green, visit the world's largest, privately owned zoysiagrass breeding facility and tour a world-class golf course grassed 100 percent with zoysia varieties.  Attendees will receive presentations and information on the following topics:
Zoysiagrass For Greens – A revolution in turfgrass versatility
Newest Salinity Research – Learn how this family of grasses uptakes salt to remediate soil
Turfgrass Breeding Updates – Texas A&M, University of Georgia and Bladerunner Farms
International Perspective – Presentations from golf course superintendents and consultants from Thailand, Brazil and South Korea
Equipment Options – Zoysiagrass management requirements and specialty equipment
Zoysiagrass Management – Tips from experts on low water use, fewer inputs, mowing practices, irrigation, fertilization, and shade tolerance
Speakers:
---
Bladerunner Farms Grass Varieties
&nbsp
Zoysiagrasses:
&nbsp
&nbsp
Buffalograsses:
&nbsp
For the past 30 years, the founder of Bladerunner Farms, David Doguet, has made it his mission to find and develop sustainable, low maintenance grass varieties and bring them to you, the consumer.
The search for the perfect grass has led him to focus on two distinct families of grasses: Zoysiagrass and Buffalograss.
These two grass families have natural attributes that allow them to require less water, less fertilizer and fewer inputs overall than other grasses. Yes, you can have a beautiful home lawn, golf course or sports field without all of the water, fertilizer, mowing or chemicals commonly used on other grasses. That's been the Bladerunner Farms goal for three decades. We're happy to report that the grasses we offer you today meet or exceed the criteria of sustainability. You can you have a beautiful lawn, golf course or sports field that you can water less often, use less fertilizer and that requires less maintenance!
---
How to Get our Grass
All of our low maintenance, proprietary turfgrasses are sold through licensed and Certified sod producers. Our grass is sold only as sod or sprigs, no seed.
In San Antonio, Texas, Bladerunner Farms harvests and sells our turfgrass sod and sprigs from our farm. To Contact Bladerunner Farms directly: 830-276-4455 or info@bladerunnerfarms.com
Outside of our San Antonio location, Bladerunner Farms grass varieties are available in more than a dozen states, grown by licensed sod producers. To find a licensed sod farm near you, visit our Where to Buy section for more information.