Olympic Golf Course Grass Zeon Zoysia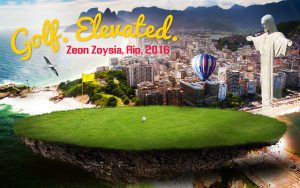 Golf returns as an Olympic sport at the 2016 Rio Games this August after a 112-year absence. The Olympic Golf Course in Brazil was built especially to host the Games. The course is a model of environmental stewardship. It was grassed using varieties that require less water and less fertilizer. Zeon Zoysia, developed by Bladerunner Farms and grown in Brazil by Green Grass Brasil, creates a highly-playable, lush surface. In the fairway, the ball tends to sit up as if on a tee. All the while, Zeon Zoysia stands up to varying water quality, reduced amounts of fertilizer and water for irrigation, and tends to choke out weeds—a major factor considering herbicides cannot be used on this site. All weeds are pulled by hand. Visit the PRESS ROOM for the whole story on the Olympic Golf Course, the significance of the project, how it was designed & built, how sustainability figured into the planning & construction of the course, and information about the people who made it happen.
Bladerunner Farms Zoysia Grass Sod
Bladerunner Farms is the world's largest privately owned Zoysia grass and Buffalo grass research and development facility. A family owned and operated business, Bladerunner Farms is run by David and Sheri Doguet, and their three sons: David, Jr., Darin and Daric. Bladerunner Farms develops grasses that are licensed to quality sod farms all over the world. The Bladerunner Farms facility also grows sod for sale from the farm located in Poteet, Texas.
The grasses developed by Bladerunner Farms are some of the most advanced, environmentally friendly, drought tolerant grasses available on the market today for use on home lawns, golf courses and sports fields.
If you're dealing with water restrictions, drought, shade or extreme weather, Bladerunner Farms can help you to create a beautiful, healthy lawn or turf facility with grasses on the cutting edge of turfgrass technology.
---
Bladerunner Farms Grass Varieties
&nbsp
Zoysiagrasses:
&nbsp
&nbsp
Buffalograsses:
&nbsp
For the past 30 years, the founder of Bladerunner Farms, David Doguet, has made it his mission to find and develop sustainable, low maintenance grass varieties and bring them to you, the consumer.
The search for the perfect grass has led him to focus on two distinct families of grasses: Zoysiagrass and Buffalograss.
These two grass families have natural attributes that allow them to require less water, less fertilizer and fewer inputs overall than other grasses. Yes, you can have a beautiful home lawn, golf course or sports field without all of the water, fertilizer, mowing or chemicals commonly used on other grasses. That's been the Bladerunner Farms goal for three decades. We're happy to report that the grasses we offer you today meet or exceed the criteria of sustainability. You can you have a beautiful lawn, golf course or sports field that you can water less often, use less fertilizer and that requires less maintenance!
---
How to Get our Grass
All of our low maintenance, proprietary turfgrasses are sold through licensed and Certified sod producers. Our grass is sold only as sod or sprigs, no seed.
In San Antonio, Texas, Bladerunner Farms harvests and sells our turfgrass sod and sprigs from our farm. To Contact Bladerunner Farms directly: 830-276-4455 or info@bladerunnerfarms.com
Outside of our San Antonio location, Bladerunner Farms grass varieties are available in more than a dozen states, grown by licensed sod producers. To find a licensed sod farm near you, visit our Where to Buy section for more information.