L1F ZoysiaGrass for Sports and Lawns

&nbsp
L1F Zoysia Grass
Extremely fine textured zoysiagrass
Erect, upright nature ideal for golf courses
Less thatch
Shade tolerant
Soft, cushiony feel
Should be mowed at ½-inch or lower
&nbsp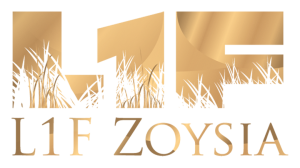 L1F Zoysia is the latest innovation in zoysiagrass for golf courses. This extremely fine-textured grass may be suitable for use on golf greens, as well as the rest of the golf course playing surface. With L1F tee-to-green, the Future Just Got Finer!
L1F Zoysia is also being used on various sports fields  and holds up exceptionally well to wear and tear. This grass is very dense and wear tolerant.
L1F is also great for home lawns. It doesn't require a ton of sun, and its wear tolerance makes it a perfect backyard grass for parents or pet owners!
---
L1F ZoysiaPhoto Gallery