ZOYSIA RENOVATION OF OAK HILLS COUNTRY CLUB COURSE CLOSE TO COMPLETION
Golf Course Architecture | November 23, 2017 | Sean Dudley
A renovation and restoration project at the historic Oak Hills Country Club in San Antonio, Texas, is close to completion.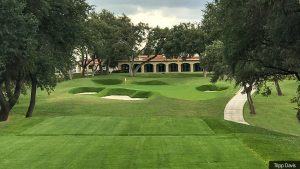 Led by architect Tripp Davis, the project has aimed to renovate the infrastructure of the course, which was designed by A.W. Tillinghast and opened in the 1920s.
GCA caught up with Davis to discuss the project, and find out how he looked to incorporate Tillinghast's design tendencies into the recent work.
"The course had reached a point that it needed to have a lot of the infrastructure renovated, like the greens, bunkers and tees," Davis explained. "The course needed to be regrassed with the best modern turf types for the area. The club needed their practice facilities enhanced, and there was an opportunity to restore some of the subtler elements to give the course more of a classic Tillinghast feel."
Oak Hills hired Tripp Davis & Associates a few years ago to prepare a masterplan to organise various projects at the club. This ultimately led to a campaign to develop a financially sustainable way to move the golf course, and the club, into the next 30 years.