Bladerunner Farms Research
Bladerunner Farms is the largest privately held Zoysiagrass and Buffalograss research and development facility in the world. The facility houses thousands of turfgrass accessions that are continuously under observation.
The turfgrass varieties developed by Bladerunner Farms have been evaluated by the National Turfgrass Evaluation Program, (NTEP), a program that collaborates with turf science programs around the United States to test new grasses in various weather, soil and other environmental conditions. The Bladerunner Farms grasses consistently rank high in quality and color, as well as other measured factors.
Bladerunner Farms closely collaborates with the University of Georgia not only to test existing varieties, but also to develop new scientifically advanced cultivars. In a program with UGA Turf Breeder Dr. Brian Schwartz, with cooperation from Purdue University, currently more than 40 Zoysiagrass accessions are under evaluation.
---
The Bladerunner Farms Zoysiagrass Collection An Oral History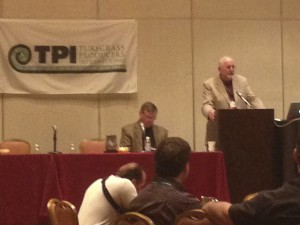 "In 1982, Dr. Jack Murray and I spent nearly 2 months traveling through Japan, Korea, Taiwan, and the Philippines collecting approximately 750 unique genotypes of zoysiagrasses. We went to a variety of places ranging from the grave sites of Korea (zoysiagrass when dormant has a Gold Color, and hence is known as the Golden Grass) to salt beds, high mountain pastures in northern Japan, horse pastures in southern Japan, throughout Taiwan including coral reefs where the Zoysia tenuifolia and Zoysia pacifica species were found on reefs, where under high tide they were submersed in ocean water, and throughout the Philippines, again from the sea coast to the heavily shaded areas of villages. This trip yielded approximately 5 of the 11 species of zoysiagrass."
As told by: Dr. Milt Engelke
"Jack Murray led the USDA's zoysiagrass breeding program for about 10 years. 'Belair' was his first release, in 1985. Much of the germplasm in his breeding program came from selections obtained on a 1982 collecting trip to Asia. Other plants trace their history to the old USDA/USGA collection at Beltsville, MD. Murray retired from the USDA in 1988 with health problems. Kevin Morris (NTEP) worked closely with him for many years before his retirement and became custodian of Murray's 1,000-plant collection for the Far East. When Murray retired, the USDA again decided to terminate its Zoysia breeding program."
As told by: Dr. Susan Samudio
"David Doguet and his family at Bladerunner Farms resurrected Jack Murray's original zoysiagrass collection and his subsequent breeding efforts, with the help of the University of Georgia's Dr. Wayne Hanna, in 2005. Since then, the family has invested a great majority of their resources in the continued maintenance and improvement of this collection. Their efforts have resulted in the development and release of 4 patented cultivars. An agreement between Bladerunner Farms and the University of Georgia Research Foundation was signed in 2009 to allow the UGA turf breeding program in Tifton to develop new turfgrass cultivars from this valuable zoysiagrass collection."
As told by: Dr. Brian Schwartz